So you finally figured out how to create a custom view in Microsoft Project and now you want to make that view available in all of your schedules. Let's face it, recreating it in every file is bound to be getting old and there's a better way. Making custom views, filters, groups, fields and even macros available in other files is a simple process. All you have to do is copy them into your Global by following the steps below:
1. Open the file that has the custom view in it.
2. In Project 2010, choose File >> Info >> Manage Global Template >> Organizer. (In 2007, Choose Tools >> Organizer)
3. To make your custom view available in every other project opened on your computer, make sure Global (or Global(+non-cached Enterprise)) is selected on the left side under Views Available In. The project file that has the customizations in it should be listed in the other box on the right labeled Views Available In.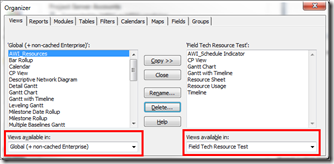 4. The custom view needs to be copied from your file to the Global. Make sure the Views tab is selected at the top and then highlight the view you want to copy in the box on the right and then click Copy.
5. I told you copying views to your Global is easy, right? It is, but there could still be a few more steps so don't stop reading yet! If you created a custom table, filter, field or group to go along with your new view, copy those objects as well. You can get to each of them by clicking on their tabs at the top of the dialog box.
Technically, you don't have to create a new table for every custom view but I strongly recommend it. One of the main reasons to have a custom view is to keep from having to insert/hide columns every time you need to do something, right? If you use the default Entry table, chances are you'll still find yourself editing the columns in that new view. You see, when a column is added to or removed from a table, that change goes into effect for EVERY view associated with that table. You basically end up spinning your wheels.
If you choose to create a custom table to go along with your custom view then only that new view will be associated with it. You no longer run the risk of it being edited in a different view. Does that make any sense at all? If not, consider signing up for one of our many classes and we can help you learn to apply the Best Practices of scheduling with Microsoft Project and Microsoft Project Server. (and if it does make sense, you can still sign up and learn lots of other tips and tricks!)
Happy Scheduling
Related Links